Changes to 2021 Examinations (GCSE & A Level)
Parent/Carer Presentation
This term, we provided a range of information to students on the grading process and completed a presentation to parents and carers. I want to thank those parents that attended the live event and submitted questions. If you were unable to attend, please see the links below to the notes and recording.
Click here for a PDF of the presentation with notes, including the questions and answers.
Click here to view the presentation as a video. PLEASE NOTE that students are required to provide their Office 365 credentials to allow you access to the video.
Application for special consideration
When formal public exams are scheduled, it is possible to make requests for special consideration where there are extraordinary circumstances that might affect performance when sitting the papers. However, special consideration requests will not apply in the usual way this summer because students will not be taking formal public exams.
As a parent/carer, if you can identify any situation over the last two years of study where you feel the school should apply special consideration to assessments or a variation in the basket of evidence, please should complete this form: https://forms.office.com/r/cbTnWSZms8
Guidance and Policy
A number of changes to GCSE and A Levels 2021 examinations have already been confirmed by Ofqual:
Click here for the Ofqual Student Guide to Grading
Click here for JCQ Guidance for Students and Parents on Summer 2021grading
Click here for the Centre Policy for determining teacher assessed grades in Summer 2021
A Level Grade descriptors: Click here
GCSE Grade descriptors: Click here
Assessment schedule for Year 11 & 13:
Assessments for Week Commencing Monday 3rd May - Click here
Assessments for Week Commencing Monday 10th May - Click here
Assessments for Week Commencing Monday 17th May - Click here
Assessments for Week Commencing Monday 24th May - Click here
Baskets of Evidence
Please note that assessments indicated on the documents below may be subject to change where the basket of evidence needs to be adjusted for individuals/groups:
KS4 Evidence: Click here
KS5 Evidence: Click here
The most recent guidance from the Department of Education (DFE) can be accessed here:
https://www.gov.uk/government/news/exams-and-assessments-in-2021
The most recent guidance from Joint Council for Qualifications (JCQ) can be accessed here:
Guidance for Students and Parents on Summer 2021
The examinations and assessments regulator, Ofqual, together with the Department for Education, have announced further information about the arrangements for awarding grades this summer. Ofqual has published this infographic to summarise the information: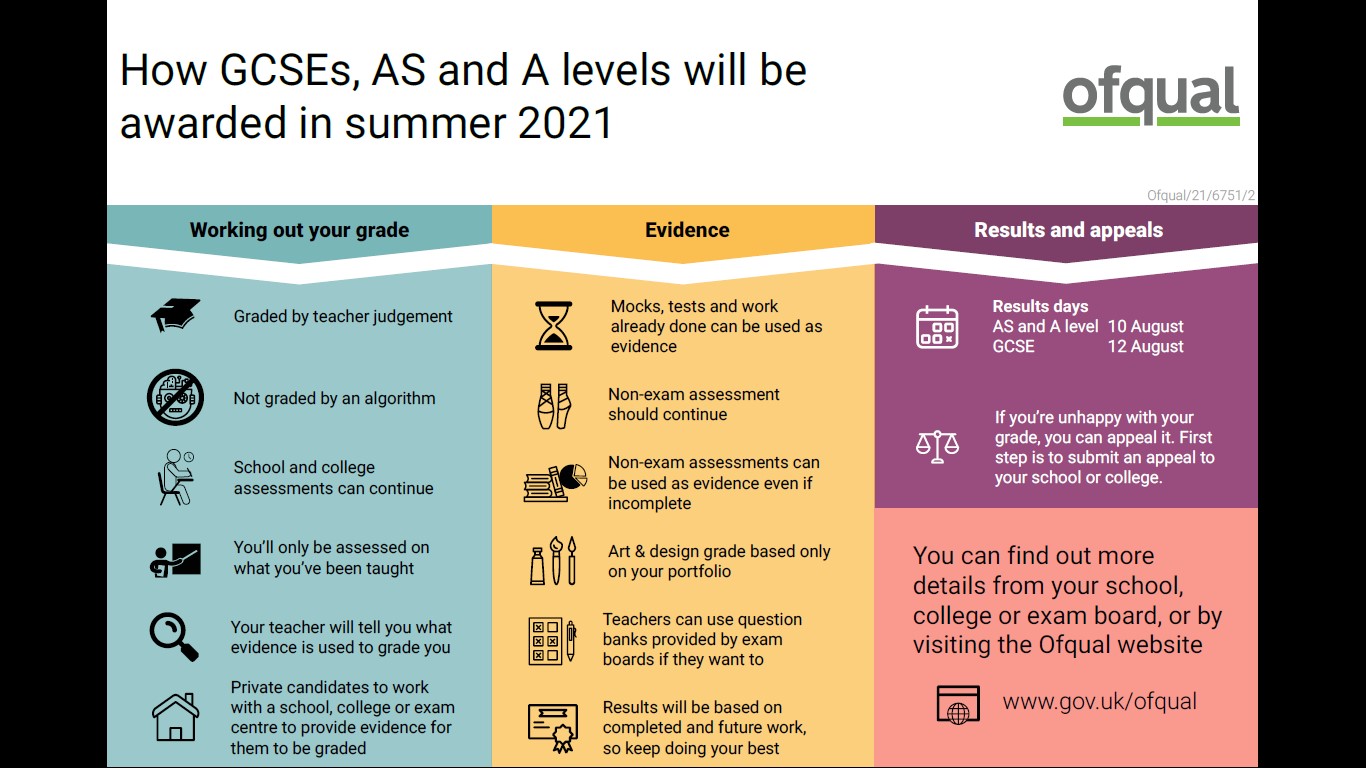 What evidence will be considered and how will evidence be considered fairly?
Teachers will assess the standard at which students are performing based only on what they have been taught to determine their grade. They will not do this in isolation, but in collaboration with other experienced teachers and subject leaders. Teachers will use their experience and professional judgement and consider the evidence without bias or prejudice. To be clear, none of the grades we submit to the exam boards will be based on one individual teacher's judgement alone. Teachers' judgements will be based on a range of evidence, gathered throughout the course, relating to the delivered subject content, either in the classroom or via remote learning. This will include work already completed, homework or in-class assessment. We will tell students what evidence their grades will be based on.
How will grades be checked?
We always undertake moderation and standardisation whenever we mark mock examinations or NEA (coursework). In addition, there will be two rigorous levels of Quality Assurance (QA)
internal - within our organisation (i.e. within the school and across the Trust)
external - by the exam boards
We are now working hard to develop further our rigorous and robust approaches to internal QA by engaging with exam boards, collaborating within our school, and working with other schools in our Trust.
These approaches will include further moderation and standardisation. They will mean that there can be greater confidence in the judgements made and the processes for submitting grades to the exam boards.
How students can be supported?
Our students' resilience is very impressive. We know that some students are anxious right now, some are also worried about their grades, and we feel for them. There is some helpful mental health and wellbeing advice at YOUNGMiNDS. Our advice is that this is a marathon, not a sprint, and students will do well by continuing to engage in their learning and making the most of the opportunities available between now and when grades are to be submitted. If you are experiencing overwhelming worry, please do contact the Year Team.