Year 8 Curriculum Options for Year 9 2023-2024
Year 8 students will opt for either French or Spanish in Year 9 and be timetabled for lessons in their chosen language. Focusing on one language will be beneficial as it allows students to further develop the skills and knowledge required to succeed in French or Spanish, which we hope they will choose to study as a GCSE. We are not able to offer after-school sessions at this time. Previously, less than 2% of students opted for two language GCSEs, and this is due to the range of new subjects available in KS4.
Year 8 will also opt for 3/4 of the subjects: Arts, Drama, Music, or Technology.
Current Government policies mean that students can only take 3 of these types of subjects at GCSE. Technology includes Graphics & Systems, 3D Design, and Hospitality & Catering. Arts include Fine Art, Art Textiles, and Photography. Students will benefit from smaller classes and more time in their favourite subjects.
More information on our curriculum can be found on the school website: https://www.threeriversacademy.org/Curriculum/
Should you wish to discuss this process further, please do not hesitate to contact us:
Mrs C Zambanini (Head of MFL) - clair.zambanini@threerivers.thpt.org.uk
Miss C Cavadini (Head of Spanish) - chiara.cavadini@threerivers.thpt.org.uk
Mrs K Taylor (Head of French - karen.taylor@threerivers.thpt.org.uk
Mr C Caswell (Head of Art) - chris.caswell@threerivers.thpt.org.uk
Mr O Caswell (Head of Technology) - oliver.caswell@threerivers.thpt.org.uk
Mr P Clowes (Head of Drama) - paul.clowes@threerivers.thpt.org.uk
Miss N Tan (Head of Music) - natalie.tan@threerivers.thpt.org.uk
Online Option Form
Please use the following link to access the online form:
https://forms.office.com/e/RR2f3mxbtZ
Please scan the QR code below to access the online form: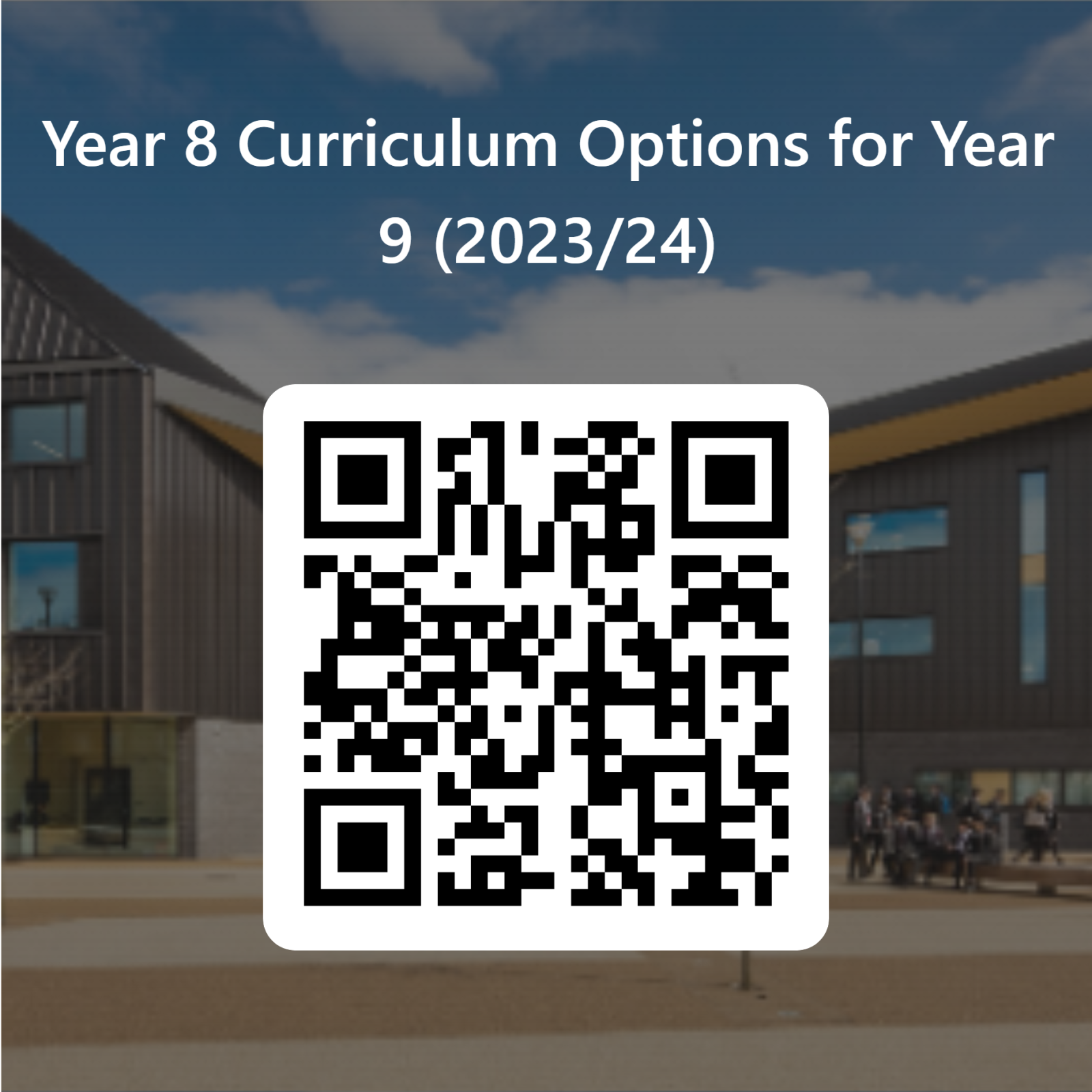 PLEASE NOTE! The form must be completed by students. They will need to log into their school Office 365 account to complete the form.
What happens if you change your mind?
Before the deadline (Tuesday 2 May): Please complete the form again. We will take the latest submission
After The deadline (Tuesday 2nd May): Please email: paul.everett@threerivers.thpt.org.uk
After the deadline, we will make changes where possible, but this depends on spaces on the course and in the band.
Can I still take a subject at GCSE if I didn't take it in Year 9?
Yes! With the exception of languages. The language you take in year 9 is the only language option available to you in the GCSE options.
Download option booklet: Click Here
option booklet year 9 curriculum choices.pdf