Surrey Cross Country Championship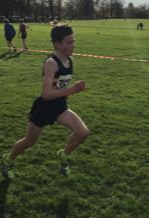 On a drizzly, wet day the Surrey Schools Cross Country Championship was held at Reigate's Priory Park. The course was very demanding with some steep and muddy hill climbs and down-hill sections, that were littered with tree roots.
Congratulations to Jack Gemmell (Year 9) representing Three Rivers Academy and the North East Surrey who finished 16th out of a very large field to qualify for the Surrey Cross Country squad who will face Berkshire at Newbury in early February.
Well done Jack!
Mr Faulkner