Fixtures Reports
Year 7/8 Girls Indoor Cricket Tournament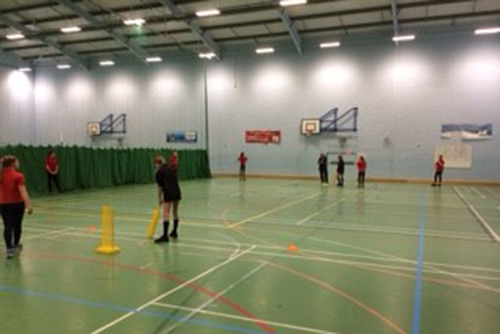 Surrey County Cricket organised this event for the district schools, with the winner progressing on to the Surrey Games Finals in the summer.
Three Rivers had a team of mixed cricket experience, with only a few having played cricket previously. Most of the girls relied on fast learning and their rounders skills!
We lost the first 3 games, but then beat the hosts Ascombe School in the 3rd-4th place play off to finish 3rd overall.
A great introduction to cricket that was enjoyed by the whole team:
Ella John
Molly Hill
Molly Hicks
Sasha Hamilton-Edmonston
Erin Fletcher
Martha Coles
Libby Wood
Abbie Bethell
Mr Faulkner
Head of PE
Year 8 Football - Three Rivers vs Blenheim 13/12/18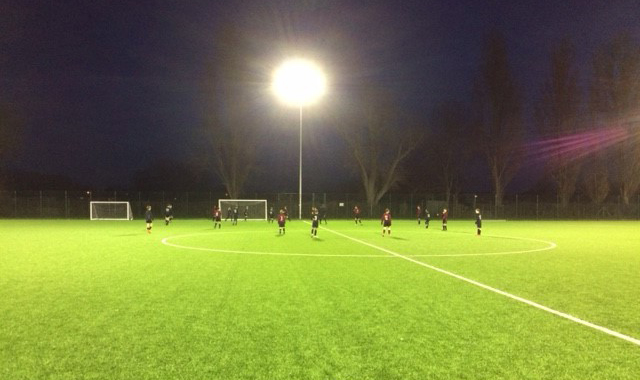 The game started with Blenheim in the ascendancy and starving Three Rivers of possession. But as the game progressed we got a firmer grip on the game. Despite Blenheim putting us under a lot of pressure our back four of Aaron Madigan, Liam Wilkins, Archie Morris and Connor Hamilton-Edmonston and Nadeem were more than up to the task and repelled countless Blenheim attacks.
Jaydn Abdul eventually made an excellent through ball to Harvey Mott who slotted home our first goal. Tyler Welch then scored a great individual goal, but then Blenheim responded, making the score 2-1. Lloyd Kean then added our third goal, and saw us go on the defensive to close out the game. Blenheim did respond with a goal of their own to finish the game 3-2 to Three Rivers. A great team performance in very cold conditions. Well done boys!
Year 7 Rugby - Three Rivers vs Hinchley Wood (at Esher Rugby Club) 9/1/19
The Year 7s had their first rugby fixture of 2019, at Esher Rugby Club on a very cold evening against a strong Hinchley Wood side. We started slowly with Hinchley Wood scoring 3 early tries due to some lackluster tackling. We then started to gain parity with some strong carries by Reece Larsen, Michael Hutson and Jack Newmarch and much improved rucking which saw Three Rivers keep the ball for longer spells. We eventually converted this pressure into a try with Reece crashing over the whitewash. Half time came and went and we continued to hold the strong runners of Hinchley with some outstanding defence from Reece, Josh Bates and Michael Hutson. But eventually Hinchley scored a further 3 tries, through an interception, and some break away tries against the run of play.
Next week the boy's face Esher High School!
Mr Faulkner
Head of PE
Year 7 Rugby - Esher High School vs Three Rivers 16/01/19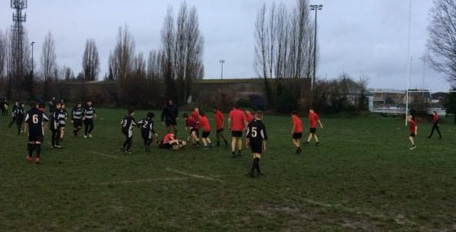 On a very cold and wet evening Esher Rugby Club once again hosted our year 7 fixture against Esher High School. Three Rivers started well with Reece Larsen crashing over for our first try, which he followed up only moments later with another very strong carry. Esher then replied with a break away try. The game was in balance, with Three Rivers rucking solidly and keeping possession effectively, but then Esher would score against the run of play. Oli Butler scored a nice try but again Esher replied. Reece Larsen grabbed his third try to seal the game, his hat-trick and also the man of the match performance.
Three Rivers 20 – Esher 15
Team
Michael Hutson
Kai Davies
Luca Jafrato
Ashton Baxendale
Reece Larsen
Alex Cronje
Oli Butler
Josh Bates
Lloyd Kean
Amir Aghababaei
Jack Newmarch
Amyar Murad
Next week we face Therfield.
Mr Faulkner
Year 7 Rugby - Three Rivers vs Therfield School - 23/01/19
A depleted Three Rivers side took to the field to face Therfield at Esher Rugby Club. The weather was cold but dry and Three Rivers started incredibly well, dominating the ruck and the collisions. Reece Larsen (captain) was a menace again with ball in hand and and scored 3 tried to give Three Rivers a convincing lead. Alex Cronje scored an excellent long distance try where he outpaced the covering defence to score in the corner. Therfield did start to make their mark on the game by scoring 2 tries. Amyar Murad, who carried the ball well throughout the game and made some effective off loads crashed over for a try. Lloyd Kean also went over for a try to cap of an excellent team performance.
Similar to us Therfield had some inexperienced players who are new to the game, and a credit to them that they persevered to the final whistle. We may face tougher opposition on Monday when we face St. Andrew's.
Mr Faulkner
Head of PE